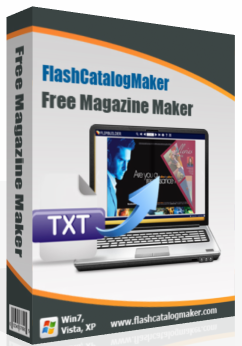 FREE
For Windows 7, Vista, XP

Free Magazine Maker -

Freeware
Easy tool to make amazing e-magazine in few minutes.
Make e-magazine with stunning page flipping effect with ease
Switch auto flip pages of e-magazine
Various output format of e-magazine: html, zip, exe, app and mobile version
Customize size of e-magazine
Make fantastic e-magazine from PDF file: PDF to Flash Catalog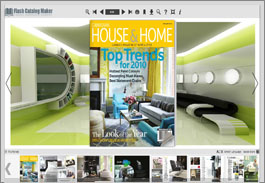 Flash Player 10.0+
The free magazine maker is an easy tool to help you create and edit page turning e-magazine from txt in few minutes. In this fierce e-commerce era, e-magazine, e-book, e-catalog and other e-publications become more and more popular and important. With a good tool to make e-publications would lead you to success. This free magazine maker would be the good tool to help you make fantastic e-magazine with outstanding real-book-like appearance and stunning page flipping effect which would catch viewers' eyes. Only innovated things would catch customers' eyes and minds. In addition, you can also make your e-magazine integrates with Google Analytics and social networks. That would be very convenient for you to organize and master e-magazine. What's more, you can also make e-magazine to be read on iphone, ipad and Android mobile devices by our free magazine maker, as you can make various formats of e-magazine, such as html, zip, exe, app and mobile version. And you can also import custom range pages of txt file which would help you make demo of paid e-magazine easily.
Screenshot
Main features:
Convert plain txt file to dynamic e-magazine and flip the contents

Import 10 pages of txt file to preview

Import custom range pages of txt file to make demo of e-magazine. It's useful for you to show e-magazine which would need payment
No limited pages to convert

Burn to CD
Add bookmark of flash e-magazin
Enable hardcover of e-magazine as you like

Enable zoom in or zoom out

DIY size of e-magazine
Customize the appearance of e-magazine to get better showing, such as change background image, font, font color etc.

Enable download button: input download URL to make viewers download e-magazine
Support print: print all pages, print current page, print range pages of emagazine
Add home page URL to home button of E-magazine
Switch auto flip pages of e-magazine: start of stop auto flip
Show thumbnails
Show flipping book on the right of interface
Show tool bars on the bottom or on the top of flipping interface
Google Analytics Integration: Add your Google ID to use Google Analytics Integrated to analyze and monitor e-magazine
Various output format: Html, zip, exe, app and mobile version ( which can be run on iphone, ipad, and Android mobile devices)
Enalbe social share button and share button: easy for you or readers to share with others by email or on social networks
Would like to make E-magazine on Mac: PDF To Flash Catalog Mac