Would like to add home page URL to flash catalog?
Hi friend, I have used the catalog software of Flash Catalog for Shopping to make digital children book for a period. It's my sincere friend in my life, as I can easily make children book to my kids. And now I am going to use it to make our online shopping products catalog. But I have encountered a problem to add our company home page URL to flash catalog. How can I add home page URL to flash catalog in order to make consumers enter into our main company website to get more details?
You can add Home page URL to your shopping products catalog easily with one step.
"Design Setting" – "Tool Bars Setting" – "Buttons Bar" – "Home Button", then you can input your home page URL into "Page URL".
Please do remember to make home button visible to be "Show".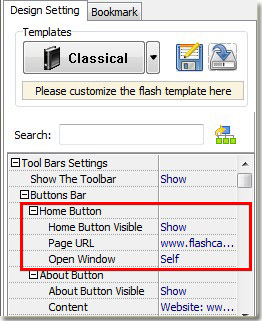 Lastly, when consumers view your flash catalog and click return home button, they can easily to enter into your company website.