What I can use the "About" button on flash catalog for shopping menu bar for?
Hey it seems that the catalog software of Fash Catalog for Shopping is much better than PDF to Flash Catalog software, as I can add buy icons, price tag asdirectly on flash catalog for shopping so that I would not take time to design relative icons. But I have a question about the "About" button on the menu bar, what I can take full use of it?
Hi, you can use the about button to add more information you would like to show. Such as your company information, contact and so on.
Click "…" to enter into "About & Contact" edit interface to add more information. Please also do remember to make "About Button Visible" to be "Show".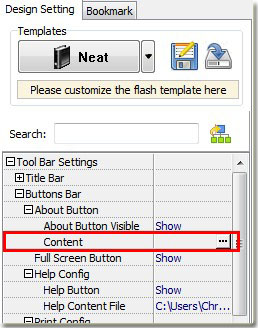 When customer click the about button on flash catalog, they will view the about window which include the information you added. That's a good way which helps you to make clear and better displaying shopping catalog.