How to share products catalog on Facebook, Twitter?
Hey, I am making a products catalog by your catalog maker to improve our sales. In fact, it really saved us a lot of time to make attracted shopping catalog. And we can also make different publications for different clients to view, but how can we share with others on social networks, such as Facebook, Twitter? I can't find the social share button.
Hello, when you design your templates, you can find social share button follow this panel: "Design setting" – "Tool Bar Settings" – "Buttons Bar" –"Share", then you should set "Social Buttons Bar" to be "Show".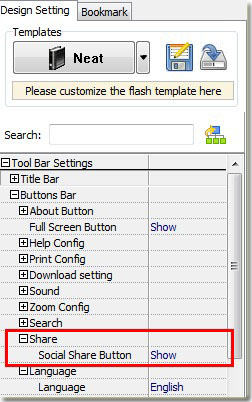 Lastly, when you or your customers click social share button can easily share shopping catalog on social websites.