How can I share my flipbook online?
Once you use our catalog software to make flipping book or catalog, magazine, how to publish created flipping book or flash catalog online easily and fast?
There are four ways for you to publish and share flipbook or flash catalog online.
1) Click "Upload Online" in our program to use the service of our company to upload your flipping book easily and fast.
2) Publish flipbook on your own website: log in your website via FTP or other uploaded tools, then upload all the output folders of flipbook to website. More details about uploading flipbook to website, see the steps to upload flash catalog online>>
3) Embed flash catalog on existing web page or blog page with embedding code, see more details to embed flash catalog on web page>>
4) Use Dropbox to publish flipbook if you don't have website or uploaded tools:
Firstly create an account in Dropbox.
Secondly, please save the output flipbook in the Public folder under Dropbox folder.It means when you convert flipbook by our program, please be make the output folder as like "../Dropbox/Public/pdf-to-flash-catalog-professional(your flipbook name)" .
Thirdly, the flipbook would be automatically uploaded to Dropbox website. Then right click the "index.html" to copy public link, then public link like: https://dl.dropbox.com/u/89865603/pdf-to-flash-catalog-professional/index.html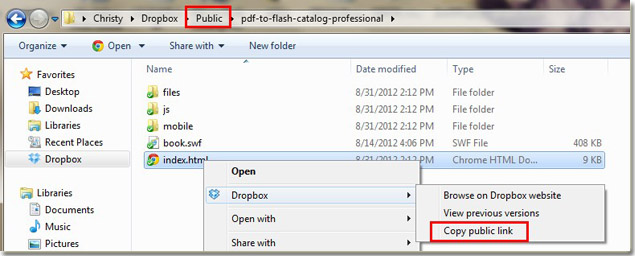 You can send the link to other people for viewing your flipbook online.
More information about upload flipping book by Dropbox.
Enjoy your time to make digital flash catalog by catalog maker.