How to make languages switchable for customers?
Hi, we have used Flash Catalog for Shopping for almost half a year. It's very nice to use. Especially, it saved us a lot of time and money to make interesting shopping catalog to catch consumers' eyes. But recently, we are going to expand our target consumers from France and Arab. Then we would like to make French and Arabic language versions of shopping catalog by your software too. But the problem is that can we change the language of tool bars icon for consumers' convenience?
Hi friend, Flash Catalog for Shopping has this function button to make language switchable. In default, we provide English, Arabic, Chinese, French, German, Greek, Hebrew, Italian, Japanese and Portuguese for your choices. In addition, you can edit languages and even add a new language.
Found language setting from Buttons Bar panel. You should set "Switchable" to be "Yes".
Then you can click "Language" to enter into language settings interface to edit or add languages.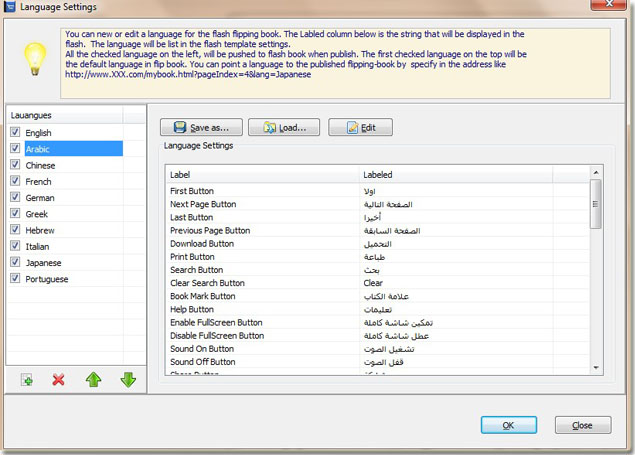 Then when consumers click "Switch language" button icon, then you choose the language they prefer to view.