How to find setting options quickly when customize templates of catalog?
Hey, I have used your flash catalog for shopping for almost one month. At the starting, it's very difficult for me to find font setting, as I should find one by one. It nearly made me crazy! Is there any efficient way for me to find relative options in design setting panel? The design setting panel is a bit complicated for me, sometimes, I would be tried to find options. Can I search font setting option when I customize templates of catalog?
Hi dear friend, we have updated our catalog software recently. Our programmer has added the search function into catalog software.
You can update your catalog software first.
Then you can find search function button easily, then if you would like to find font setting, you can write key words or some characters to search.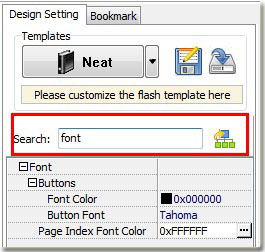 This function is very convenient for you to customize template of shopping catalog.