How can readers download my flash catalog?
Hi, I have used your PDF to Flash Catalog for a period. Any way, it's very useful in my business. On the one hand, I can add my Google Analytics ID to master my catalog. On the other hand, it's easy for me to make flash catalog, share with customers and also publish it online. But how can customers download my flash catalog?
Dear friend, our programmer has designed the download function button in flash catalog interface. You can define the download function button with download URL before you convert PDF to flipping flash catalog.
Step1: Set "Design Setting" – "Tool Bars Settings" – "Buttons Bar" – "Download setting" – "Download Enable" – "Yes"
Step2: Insert your download URL of your flash catalog. Please be sure that the download URL is the same domain as the flash catalog uploaded URL.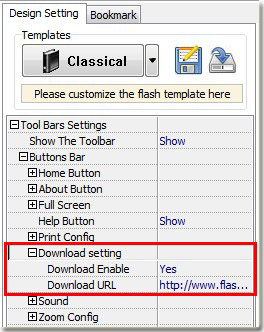 When readers click download buttons icon, they can own them in few seconds.