Add background music of media catalog?
Hey, PDF to flash catalog is really a nice and easy tool to convert my PDF files to flash catalog. But now I would like to make a media catalog with music, video and link. But I don't know how to set background music which it can play all the time when people read. How to add background music of media catalog?
When you design templates setting, on "Buttons Bar" panel, you can find "Sound".
Then on the drop-down list of sound, you can select a background sound for your media catalog.
Please kindly note that the "Enable Sound" should be "Enable".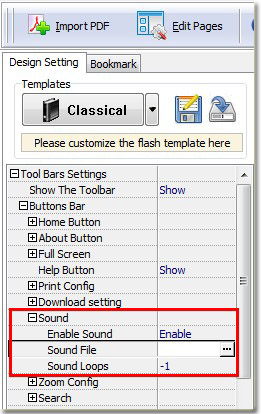 In addition, if you set sound loops to be "-1", then the background music would play all the time. You can also set N (N>0), background music would play N times then stop.
Enjoy your time to make media catalog.