How to add company logo into flash catalog?
Dear friend, I have used PDF to Flip flash catalog converter for a period. It is really a good friend in my life, because I can convert my novels to flip flash book with ease. And even I would also make simple kids' story book to my children, luckily they like them very much. But now I want to use it to make flash catalog in my business. The flash catalog with our company logo would be great, how can I add our own logo into flash catalog?
Hi, our catalog software would be useful in life and business.
And only one step, you can add your company logo into flash catalog and even add URL for the logo. But only in Float and Neat templates can you add book logo.
After you choosing the template, find the "Title Bar" of the directory in Tool Bar Settings. On Title bar settings, you can insert your company logo and add the URL of logo.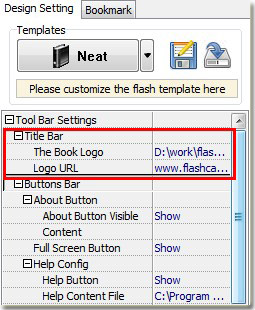 Lastly, you can see the company logo on the top left of interface. Once customers click it, they can visit URL easily.