How to make flash flip catalog searchable?
Hi friend, I have used your catalog software of PDF to flash catalog professional for a while, but I have a problem with search function. To be frankly, I'm really happy to find this catalog maker , as I can convert PDF to flash flip catalog, the most I like is that I can make my plain PDF with flash and page turning effect. That's really nice. Ok, can you tell me more about search function of flash flip catalog in order to make catalog searchable for viewers?
Hi, follow our steps to find the search option to define: "Design Setting" – "Tool Bar Settings" – "Search".
Firstly, you should set the "Search Button" to be "Show" so that customers can find the search button on flash flip catalog.
Secondly, you can set the search highlight color of found words, then viewers can recognize search characters quickly.
Thirdly, you can also set the least number of search characters.
Lastly, when viewers click search button of flash flip catalog and input the search character, they can see pages list of found words..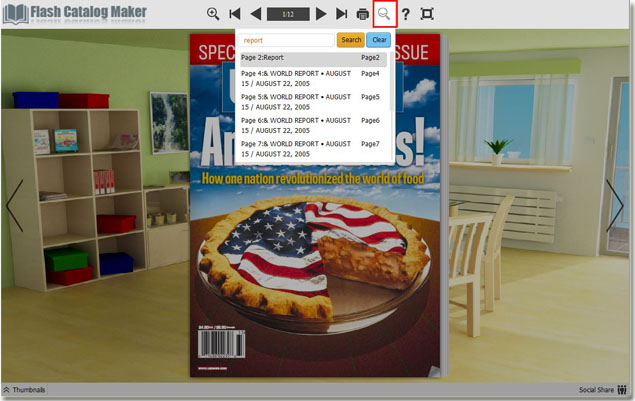 You can see the found words with highlight color on flash flip pages of catalog.