Add text button with embedding link on online catalog?
Hey I would like to make an online shopping catalog by your professional catalog maker – Flash catalog for shopping. How can I add button with text and link to our shopping catalog? If so, it would be more intuitive for viewers. For example, we would click "buy now" button to buy the product, the online flash catalog button with text would let customers easy to understand what the button for. And the button of online catalog with link would be totally convenient for customers.
You can add text button with embedding link on online catalog with the powerful function of flash catalog for shopping software.
Enter into edit flipping pages on online shopping catalog interface with clicking "Edit Shopping Cart".
Then click the add text button icon and choose the area where you would like to add text button to online catalog. After choosing the area to add text button you can define the text button with customizing its button caption, font color and link URL etc.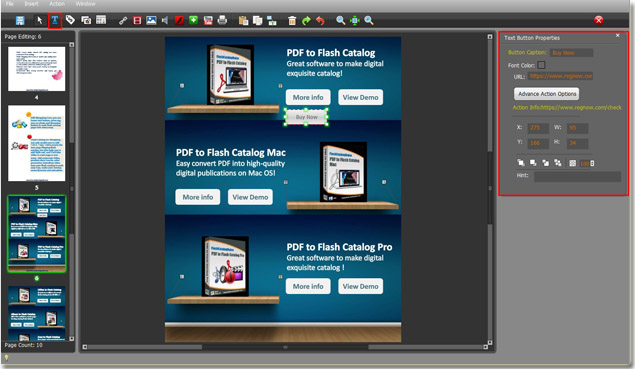 For example, if you would like to add a button to lead viewers to buy product, you can define the button caption of "Buy Now" and embed the relative link URL.
Lastly save and exit.
Enjoy your time to make online catalog by our professional catalog maker.