Make printable catalog with flipping pages
Do you want to know how to make printable catalog? Would you like to make your catalog printable? Maybe you are still making PDF catalog to send to customers, but have you thought about innovating catalog with improved products? As in this fast developing society, customers would be attracted by new things. Have you prepared to make relative change for your catalog? But if you make other catalog, how can make customers print catalog is also a problem, as in PDF catalog, customers can print them directly on PDF. But it's really not convenient for customers to print, as they have to preview catalog and they can only print whole one page of catalog.
Today we would like to share you one solution to make printable catalog with attracted factors which meet current customers' demands. The printable catalog – which has page flipping effect and embedded video, audio, link, swf flash, sound and other multimedia objects. This kind of new catalog is made by PDF to flash catalog Professional. The most important thing is that you can print all pages of catalog, or print one page, or print page range, or even print customized area of catalog. Flexible ways to print catalog is the best choice for customers.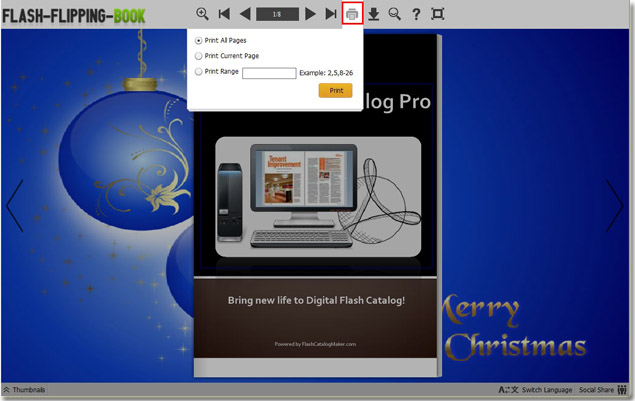 Follow our simple steps to make printable catalog:
Step 1: Download and install the catalog software of PDF to flash catalog Professional.
Step 2: Import PDF file
Step 3: Edit pages of flash catalog, you can embed video including flv and even You tube video, audio, link, images, flash, sound and so on. Moreover, you can add printable area where you would like to print. You just need to click "Add Printable Area" on the flip page editor then choose area where you would like to print. Then when you open the flash catalog, you can find the area where you choose to print then click the print button on the right top of the printable area.
Lastly when your customer click print button, they would have three choices to print: Print all pages, print current pages, print range.
Enjoy your time to make printable catalog by our catalog maker.
Free try PDF to Flash Catalog Professional
Would like to make flash flip catalog on Mac: PDF to Flash Catalog Mac Pro
Free beautiful flash flip catalog templates for download: Themes 2012