Insert sound file to company brochure
Have you made company brochure before? Your company brochure has got good feedback? How is your advertisement investment every year? What's your company brochure looks like? Today we take our opportunity to share you with one easy-to-use tool to make online company brochure with inserted sound file. The tool is PDF to flash catalog. This tool has two version – standard and professional version. The most difference between two versions is the professional catalog maker can embed videos, audio, links, photo slideshow and other multimedia objects.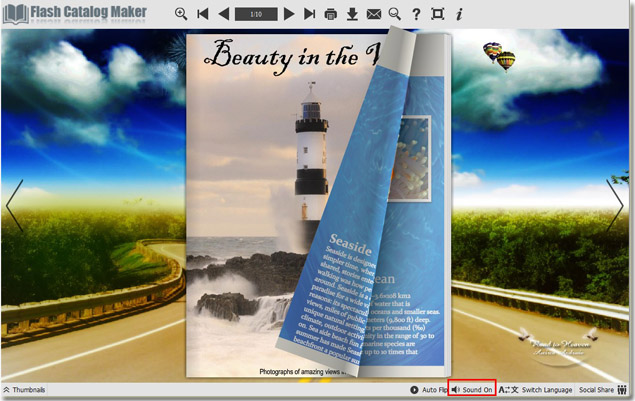 You might invest a lot to make advertisement on TV, bus, metro, newspaper and even radio. But most of them would cost much, so we have developed a new reason tool to help you make company brochure with ease. Why not have a try on this reasonable catalog maker which you can buy once use forever, and we would also update it from time to time. You will get the lastest catalog software with new functions without any extra cost.
How to make company brochure with inserted sound?
Step 1: Import PDF company brochure, and you can also import bookmark and links as well.
Step 2: Customize company brochure, you can design the output appearance of company brochure, for example, you can insert background image, company logo, logo URL etc. In this step, you can insert sound file to company brochure. The only thing you should do is to click "Sound file" to insert sound file.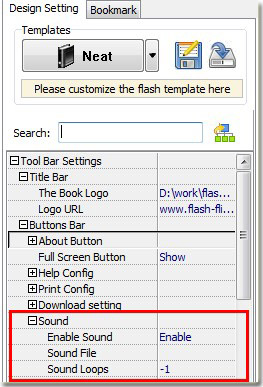 Step 3: Convert to online company brochure with clicking "Convert to Flipping Book" button to output company brochure. You can make html, zip, exe, app and mobile version of company brochure. In addition, you can also make mini online company brochure to embed into your company web page. In simple three steps you can make a fantastic online company brochure.
Don't hesitate to try this catalog maker, you can not only make products catalog, but also make flash magazine, company brochure etc.
Free Download PDF to Flash Catalog: PDF to Flash Catalog
Free Download PDF to flash catalog Professional : PDF to Flash Catalog Professional
Free Download Office to flash catalog: Office to Flash Catalog
Free tools: Free E-book Tools