Experience Viewing PDF Catalog in Flip Style like Reading Book
Date: October 22, 2012
Many customers would like to read paper product catalog not the PDF catalog, so you might have encountered some customers asked for sending product catalog. And there is no doubt that PDF catalog is normal in business. In fact, there is an easy way for you to make PDF catalog in paper product catalog style with book appearance and you can also add more information into the catalog as you like. The easy way is to use catalog maker – PDF to Flash Catalog. The catalog maker can turn PDF catalog to page flipping flash catalog with the sound of turning pages which can really enhance the feeling of reading real product catalog.
The surprising thing is that you can easily make special page flipping flash catalog by the catalog maker in any festival in short time. As you well know that the difference of catalog would be an important factor of catching viewers' eyes. And at the same time, customers can even get more fun and realistic reading experience of viewing PDF catalog in Flip Style.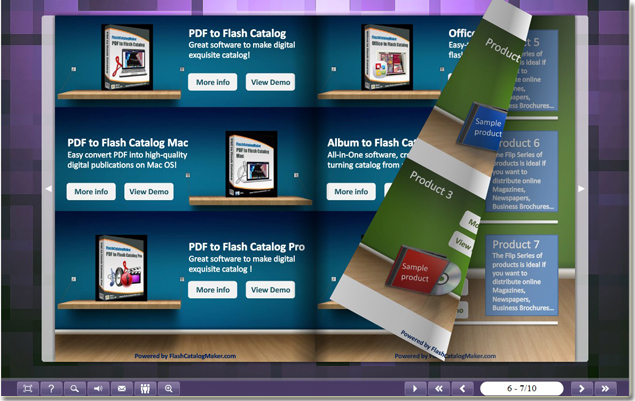 The another surprising thing is that views can read flipping PDF catalog in flexible ways, such as reading page flipping flash PDF online or offline, viewing flipping PDF catalog in Mobile devices with a browser etc. How flipping PDF catalog to be viewed on Mobile devices bring you more business opportunities? Firstly, there is an increasing number of people own iPhone, iPad and Android mobile devices. Then you can create the mobile version of flipping PDF catalog by the easy catalog maker which can be run on iPad, iPhone and Android etc. Secondly, more convenience for customers to open the flipping PDF catalog with one click which would easily please customers and make them enjoy fun of reading product catalog. If you publish the flash catalog online, you can just send the link of flash catalog to customers so that they don't need to take much time to download product catalog. Thirdly, embed flipping PDF catalog on web page can make more people to view catalog on computer, mobile so that the exposure of product catalog can be larger. Don't you think you can't get more business opportunities with using the flipping PDF catalog?
What's more, you can also reduce the cost of outsourcing or marketing, distribution by owning one catalog maker. In addition, one catalog software can not only help you in making flipping catalog in business but also would enable you read any PDF file in flip style. For example, when you feel boring to read PDF novel, you can easily turn PDF novel to page flipping flash book. You can turn you PDF to flash flipping catalog, book, magazine, brochure now with the easy catalog maker.
Free download:PDF to Flash Catalog
Free download pre-designed themes:Flash Catalog Templates