Design PDF Halloween Book in Few Minutes with Realistic Experience of Thrilling
Date: October 26, 2012
Want to design PDF Halloween Book in few minutes but make the book be filled with realistic thrilling atmosphere? You might be a busy worker, but in the special "thrilling" time, why not to find some funny and cooling things to do? PDF book would be a normal e-book now, but there is an easy catalog software can design PDF book to page flipping book with realistic page flipping effect, book appearance and even the sound of flipping pages if you turn on your speaker.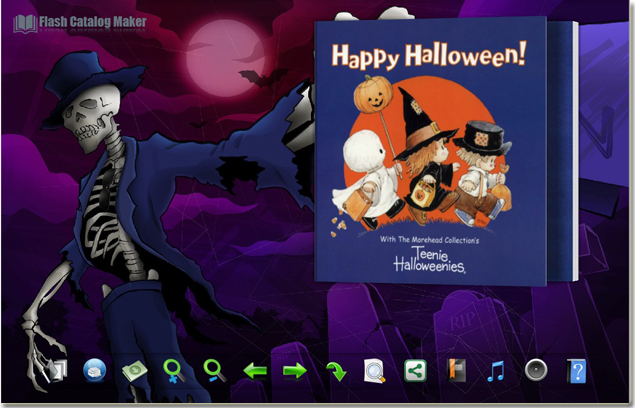 You might be strange that why catalog software can create book now? We would like to say that the technology is unlimited and great, the catalog software is very comprehensive as it would allow people to convert any PDF to flash flipping style book, such as PDF catalog, PDF book, PDF magazine, PDF brochure, PDF newspaper, PDF report and other PDF documents. Most companies would choose the catalog software to create innovative and extraordinary catalog, as the catalogs they made have really bring them more opportunities to make business. And now, it's also a good partner for person.
For example, design PDF Halloween book to page flipping Halloween book and make the add effects to make the book more thrilling and realistic.
How to add effects by the catalog software in order to make the PDF Halloween book with more realistic experience of thrilling?
1. Use special or own-designed image as background image to decorate the Halloween book.
You can insert the Halloween image file to be as background image to decorate the Halloween book. The amazing thing is that you can also insert swf file with animation to be as background image too which can easily make Halloween book more dynamic and vivid. By the way, if you know how to create swf file, that would be more fantastic to DIY the Halloween book.
2. Create thrilling atmosphere with special sound to Halloween book
The easy catalog software would enable you to insert sound file to be as background music of Halloween book. So pick up a special sound or music to design the Halloween book as you want.
3. Make the Halloween book to flip pages automatically
You can use the catalog software to design PDF Halloween book to flip pages automatically when it starts up, that's really cool when someone to read it at midnight with special sound. The book can flip pages by themselves, don't you think it can also enhance the realistic feeling of thrilling?
Get the catalog software: PDF to Flash Catalog
Free download pre-designed themes:Flash Catalog Templates